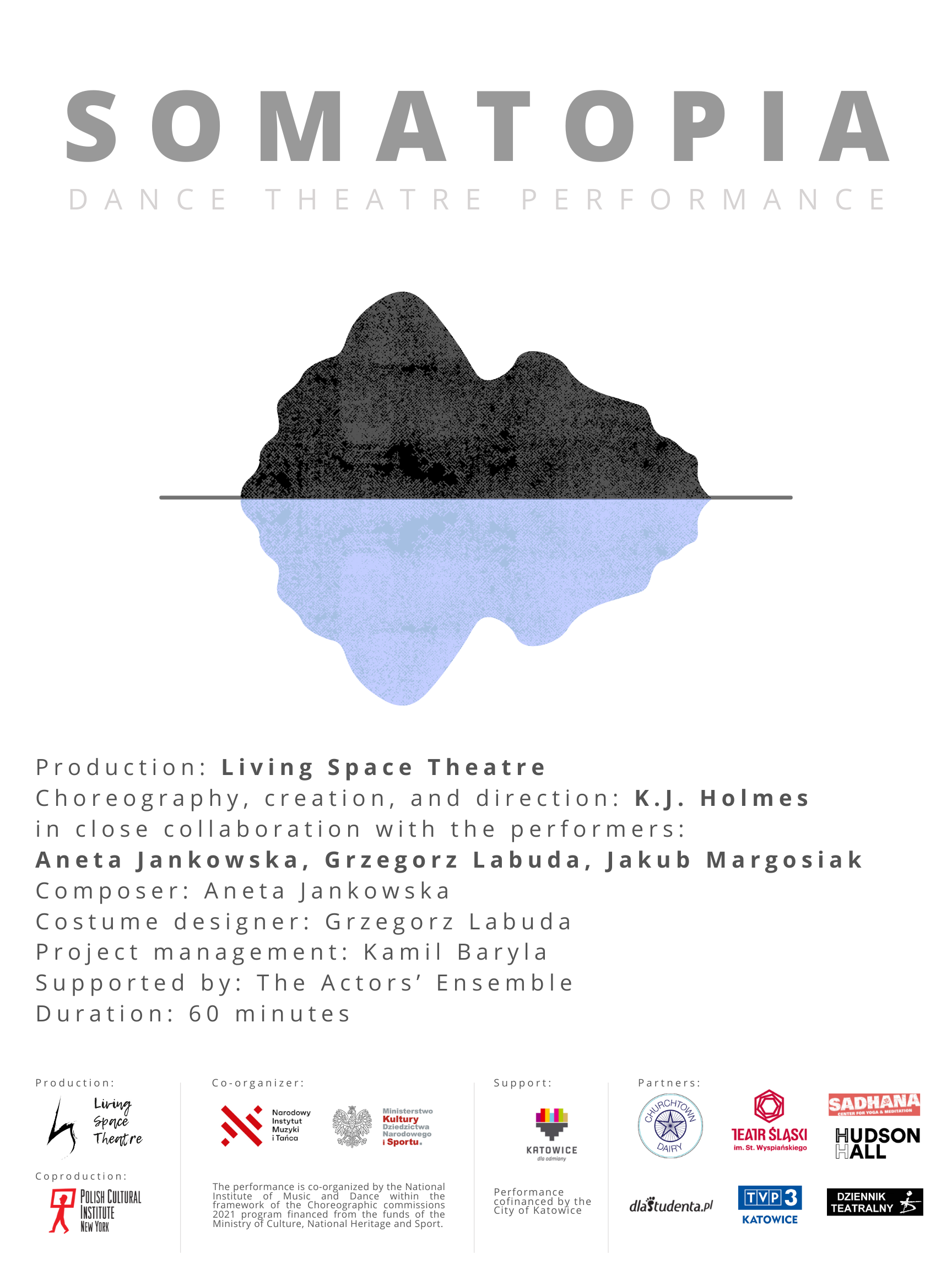 Somatopia – premiere!
We started rehearsals for the newest production "Somatopia" in collaboration with the American choreographer K.J. Holmes. The performance is created as part of the Choreographic commissions 2021 program of the National Institute of Music and Dance with support from The Polish Cultural Institute in New York. The performance will have two premieres: in the United States and in Poland.
Soma is defined as the body as well as the imagination within the body. Utopia is described as "no place" yet also "a field." If our bones hold our history, where do we find our next direction? In this strange time of pandemic re-emergence, are we moving back into what we knew or forward into other futures? Perhaps it is in a suspension of time, in our dreams, in that place of no place, a field…
Details about the perfomance:
Production: Living Space Theatre
Choreography, creation, and direction: K.J. Holmes
in close collaboration with the performers: Aneta Jankowska, Grzegorz Labuda, Jakub Margosiak
Composer: Aneta Jankowska
Costume designer: Grzegorz Labuda
Project management: Kamil Baryla
Supported by: The Actors' Ensemble
Duration: 60 minutes
Co-organized by: the National Institute of Music and Dance within the framework of the Choreographic commissions 2021 program financed from the funds of the Ministry of Culture, National Heritage and Sport.
Co-produced by: The Polish Cultural Institute New York
Co-financed by: The City of Katowice, Poland
Supported from: The Actors' Ensemble, Chatham, NY
About Living Space Theatre:
Living Space Theatre is a nomadic theatre founded in 2016 by artists who graduated from the Dance Theatre Department of National Theatre Academy in Cracow (Poland). In our works, we combine movement, dance, and acting focused on the physical body and imagination. Through our performances, we hope to raise a voice about current social issues, tolerance, and human rights. For more information visit:
www.livingspacetheatre.com
About K.J. Holmes:
K.J. Holmes, a Brooklyn based dance artist/actor/singer/writer, travels nationally and internationally teaching/performing/creating. K.J. has been exploring improvisation as process and performance since 1981 and has collaborated extensively with dance pioneers Simone Forti, Lisa Nelson and Steve Paxton. She has worked with many other fine artists including Roy Campbell, Jr., Julie Carr, Miguel Gutiierrez, Karen Nelson, Xavier Le Roy. Karinne Keithley Seyers. K.J. is in Matthew Barney's recent film Redoubt and is currently assisting him in creating Catasterism in 3 Movements, a new piece which will be performed at Art Basel this September. She teaches at NYU/Experimental Theater Wing and Movement Research, collaborates with drummer Jeremy Carlstedt in L.I.P., and is continuing to develop 900 Bees are Humming , an installation/performance piece exploring rhythms, cycles and thresholds.
More about K.J. Holmes:
kjholmes.info